We're the Yum Paleo team and we want to help you start living a better life. As it happens, a huge part of that has to do with good eating. So we're here to introduce you to the wonderful world of Paleo.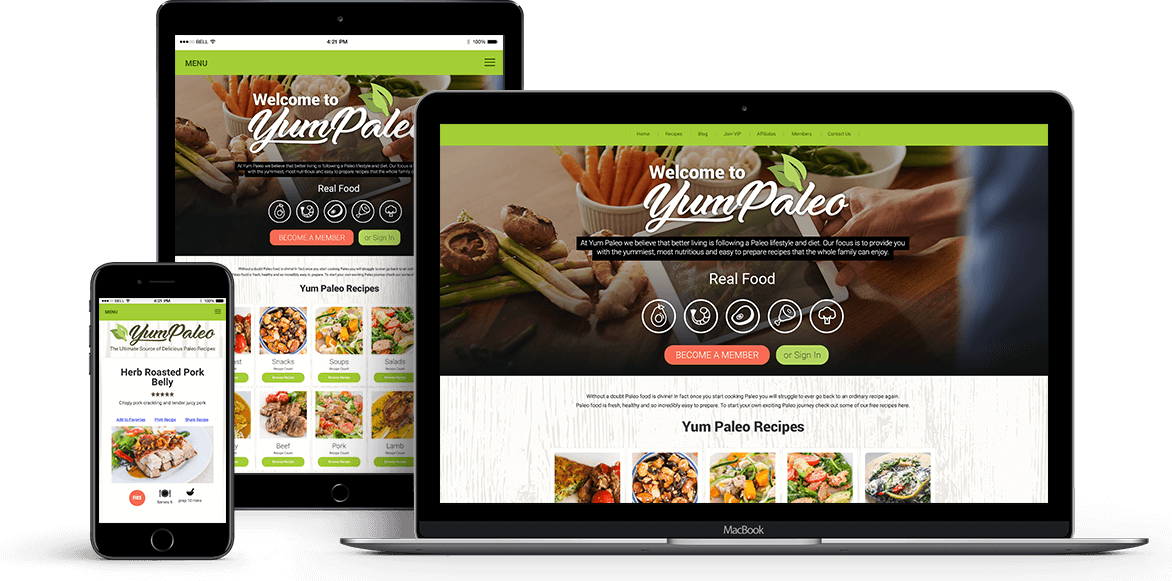 It's not just about knowing what to eat and not to eat, but approaching the WAY you eat (and cook) in a whole new light. A diet in itself will only make you feel cranky and deprived. The Paleo lifestyle is built on the joy of celebrating good food and exploring new tastes and textures.
So, our focus is to provide you with the yummiest, most nutritious and easy to prepare recipes that the whole family can enjoy. Paleo is an ever-evolving journey of discovery and we're super excited to be your guide and partner!
We know how overwhelming it can be when you make the decision to improve your lifestyle. There are so many diets out there it can be overwhelming and confusing
At Yum Paleo, we believe that this lifestyle is crucial to our health and can help you feel amazing almost instantly!
That's why we've made it our mission to make it easy, painless and delicious to become a Paleo adoptee. We do this by offering a full suite of free recipes.
We also have a VIP membership that gives you full access to our secret recipe vault which we update every day! In both our free and VIP recipes, you'll get step-by-step instructions and easy-to-follow videos, to show you how to create your own delicious Paleo meals.
We also have some amazing, hot-off-the-press recipe books that answer the most frequently asked questions from our Paleo members. That includes stuff like, "What do I replace rice with?"
"What will I cook instead of pasta?"
"I love bread…what on earth am I gonna eat now???"
Don't worry – we'll put all of those burning questions to rest.  We got your back, remember? ;)
On top of all that, we also have a weekly newsletter to fuel your passion for Paleo and keep you inspired. Click here to join!
We want to show you the path to a happier, healthier way of life. Now it's time to take that first step with us.
And we love hearing success stories from our members! If you want to share yours… please email us here!
Live life with passion and flavor,
The Yum Paleo Team