Paleo Lamb Shanks
This tender, flavor-infused lamb dish will be enjoyed by all! Remember, this dish requires three hours to cook.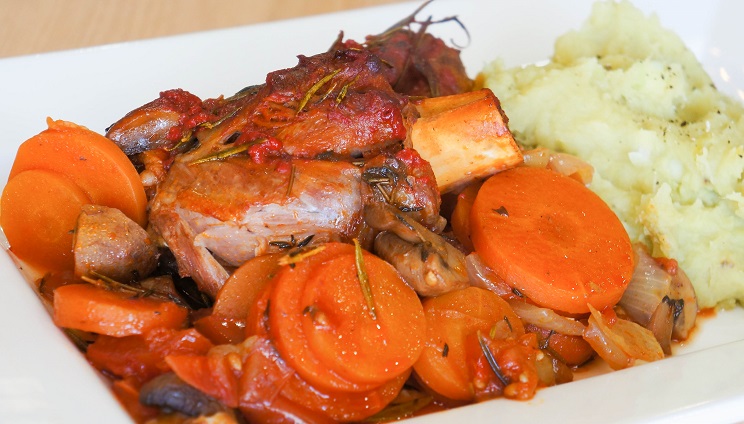 Ingredients:
4 lamb shanks
1-2 tablespoons olive oil
2 cups beef stock
4 tomatoes, chopped into quarters
3 brown onions, chopped into small chunks
3 carrots, chopped
12 white button mushrooms, sliced
1 cup red wine
1 sprig fresh rosemary
5 cloves garlic, crushed
4 tablespoons of fresh tomato paste
Fresh thyme
Method
1. Preheat the oven to 300F (150C) on bake.
2. Add the chopped onions and crushed garlic to a casserole dish.
3. Heat olive oil in a fry pan on medium-high heat and then cook the lamb shanks until they are lightly browned on each side (about 4 mins on each side).
4. Remove the shanks from heat and place them into the casserole dish.
5. Add the sliced mushrooms, carrot and tomatoes to the casserole dish, then pour over the red wine and beef stock.
6. Add in the tomato paste, rosemary and chopped thyme.
7. Place the lid on the casserole dish and put it in the oven to cook for 3 hours.
8. Remove the dish from the oven and serve your shanks over a sweet potato mash (optional).
9. Enjoy!