At Yum Paleo we believe that better living is following a Paleo lifestyle and diet. Our focus is to provide you with the yummiest, most nutritious and easy to prepare recipes that the whole family can enjoy.
Real Food
Become a Member
or Sign In
Without a doubt Paleo food is divine! In fact once you start cooking Paleo you will struggle to ever go back to an ordinary recipe again.
Paleo food is fresh, healthy and so incredibly easy to prepare. To start your own exciting Paleo journey check out some of our free recipes here.
Yum Paleo Recipes

Hi there!
Weß"??re the Yum Paleo team and we want to help you start living a better life.
As it happens, a huge part of that has to do with good eating.
So weß"??re here to introduce you to the wonderful world of Paleo.
Read more about Yum Paleo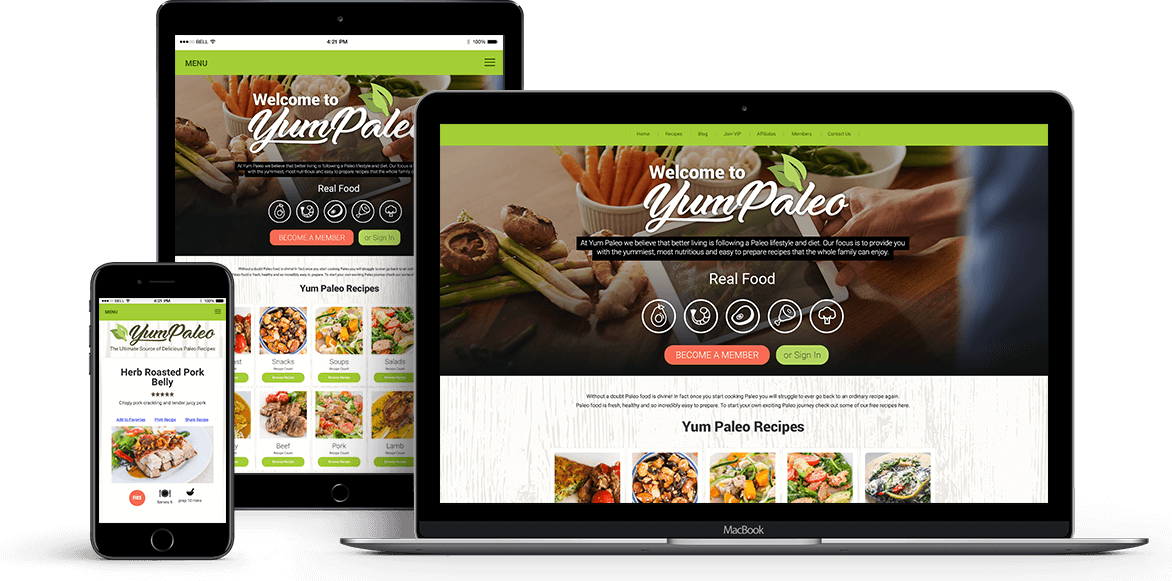 Whatß"??s the deal with Paleo, anyway?
Maybe youß"??re completely new to the scene or youß"??ve gone Paleo for some time nowß"?|.
Either way, you might have some questions about this whole Paleo thing.
Right off the bat, you should understand that Paleo is way more than just healthy eating.
Learn more about Paleo

What To Avoid
The main goal is to avoid any foods that are toxic to our bodies. In other words any foods that cause inflammation. To keep it simple here are some general rules of foods to avoid:
Cereal grains
Wheat, brown rice, millet, rice, barley, oats, rye, triticale, sorghum, and corn
Legumes
Soy Beans, Lentils, Peas, Peanuts, Chickpeas
Vegetable Seed Oils
Sunflower oil, Canola oil, and Sesame oil
Processed foods
Bacon, Granola Bars, Instant Ramen, Dried Fruits, Frozen Dinners
Refined sugar
Candy, Soda, Cereals, Ketchup, Cake
Dairy
Cheese, milk, yoghurt that are high in casein and lactose
What To Love
Our list of all the foods we love is so long we canß"??t list them all here but quite simply itß"??s vegetables, meat, seafood, poultry, eggs and fruit. These foods are nutrient dense and our bodies love them!
Grass-fed meats
Beef, pork, lamb, veal, rabbit, goat, sheep, bison, wild boar
Fresh vegetables
Avocados, Spinach, Kale, Lettuce, Swiss Chard, Arugula
Eggs
Chicken eggs, duck eggs, goose eggs, quail eggs
Fresh fruits
Bananas, apples, oranges, berries, plantains, grapefruit, pears
Fish/seafood
Salmon, tuna, trout, bass, Crab, lobster, shrimp, scallops
Nuts
Pistachios, sesame seeds, cashews, almonds, hazelnuts, macadamia