Beef & Broccoli Stir Fry With Pumpkin Mash
Stir frys are healthy and easy meals that are great for any day of the week.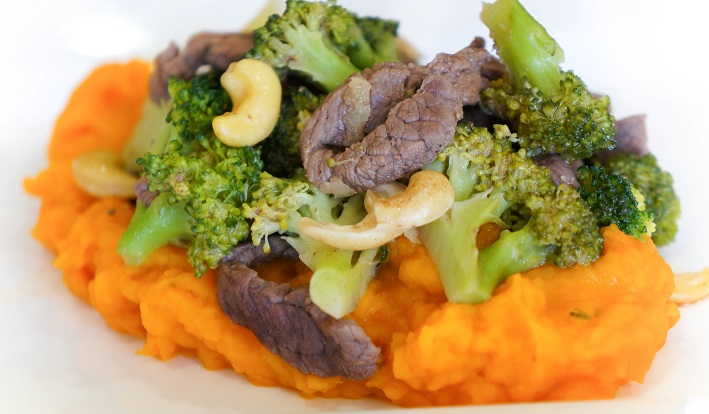 Ingredients:
Beef & Broccoli Stir Fry:
2 pounds (1 kilogram) lean beef
Cracked black pepper, to taste
Coconut oil, for frying as needed
1 cup (250ml) beef stock
2 broccoli, chopped
1 tablespoon fresh ginger, grated
1/2 cup raw cashew nuts
Pumpkin Mash:
1/2 pumpkin, skin removed & cut up into chunks
Cracked black pepper, to taste
1/3 cup coconut milk
Method
Beef & Broccoli Stir Fry:
1. Season the beef with black pepper.
2. Heat a frying pan with a drizzle of coconut oil. Sear the beef until lightly brown.
3. Add the beef stock, broccoli, and ginger. Â Cover and let it simmer for a few minutes, or until the vegetables are cooked.
4. Add the cashew nuts to the pan and cook for 2 minutes more.
Pumpkin Mash:
1. Boil the pumpkin in a pot of water for 15 minutes. Once tender, remove from heat and drain out the water.
2. Crack some black pepper into the pot and pour in the coconut milk. Mix together using a hand blender.
3. Serve together with your stir fry.