Beef & Bacon Sliders with Pumpkin Salad
Quick and easy, great for the BBQ and the kids will love them!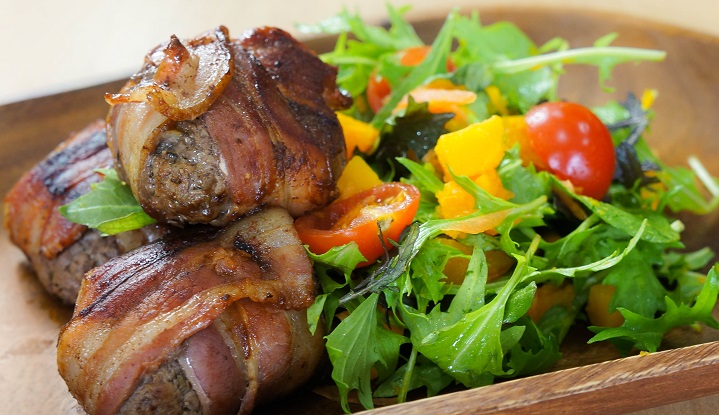 Ingredients:
Beef & Bacon Sliders:
2 garlic cloves, crushed
1 tablespoon rosemary
Note: You will need toothpicks and paper towels.
1 pound (500 grams) ground beef
½ pound (250 grams) bacon
Coconut oil, for frying as needed
Pumpkin Salad:
1/4 pumpkin, diced
2 cups salad greens
10-15 cherry tomatoes, halved
1 carrot, grated
 
Method
Beef & Bacon Sliders:
1. Add crushed garlic and rosemary to the ground beef and mix together using your hands.
2. On a chopping board, cross the bacon streaks, making 'X' shapes.
3. Mold the patties into small palm size balls with your hands. Place each patty in the middle of the crossed bacon. Wrap the bacon streaks around each patty and add a toothpick down the center to hold it together. Repeat until all of the patties are wrapped.
4. Heat some coconut oil in the frying pan and cook the patties for 5 minutes on each side.
5. Once cooked, place on paper towels to drain off the excess oil. Remove the toothpicks.
Pumpkin Salad:
1. Add pumpkin and enough water to cover it into a microwave-safe bowl then cook in the microwave for 3 minutes. Check the tenderness of your pumpkin. If it is still relatively hard, cook in the microwave for 3 minutes more. Drain and set aside.
2. In a large bowl, combine your greens, tomatoes, grated carrot and cooked pumpkin.
3. Serve with the sliders. Enjoy!