Paleo Beef Quesadilla
Healthy fiesta fun for everyone.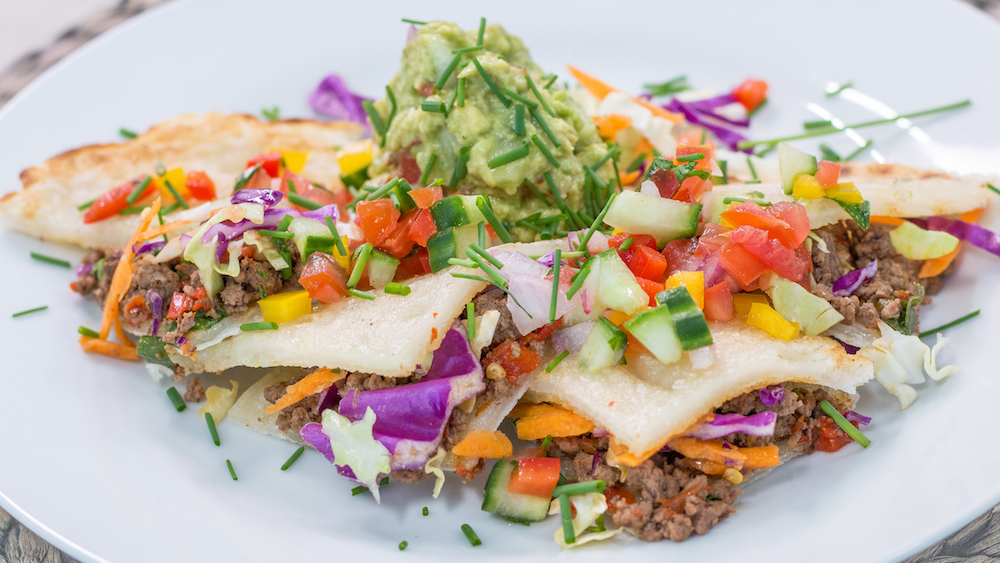 Ingredients:
For Quesadilla shells:
2 Cups tapioca flour
1 cup of almond flour
1 teaspoon of sea salt
4 tablespoons of olive oil
1&1/2 cups of water
/2 cup coconut oil

Ingredients for filling:
2 lbs of ground beef
4 cloves of crushed garlic
1 tablespoon of dried chili flakes (more if you want it spicy)
teaspoon of cayenne pepper
1 teaspoon of smoked paprika
1 red onion diced
2 red peppers diced
2 yellow peppers diced
1 cup of chopped spring onion
2 tablespoons of olive oil
salt & pepper
Method
Pre heat oven to 350 degrees Fahrenheit

Procedure:
1) Make quesadilla shells, add all dry ingredients together and mix, add oil to water and mix, add wet ingredients to dry and wisk till smooth.

2) Heat a frying pan with 1 table spoon of coconut oil, once hot pour in 1/4 cup of batter( this
can be adjusted depending on the size of the shell you want) cook till lightly golden brown on each side (2-4 minutes).

3) Repeat process until batter is finished, setting cooked shells on a baking sheet to cool.

4) Make filling, heat a large frying pan with 2 tablespoon of olive oil, when hot add onions and crushed garlic, saute until onions are transparent.

5) Add diced peppers,cook till slightly tender.

6) Add ground beef, add chili flakes, cayenne, salt, pepper, smoked paprika, cook until ground beef is fully cooked through( 8-10 minutes).

7) Place an empty quesadilla shell flat on an oven tray, cover with mince mixture, add any type of fresh crunchy slaw desired (or other veggie compliments).

8) Place second quesadilla shell on top, repeat for the other shells, bake in preheated oven for 5 minutes.

9) Serve with your choice of salsa and guacamole.