Broccoli & Roasted Butternut Pumpkin Salad
A hearty and healthy flavor packed salad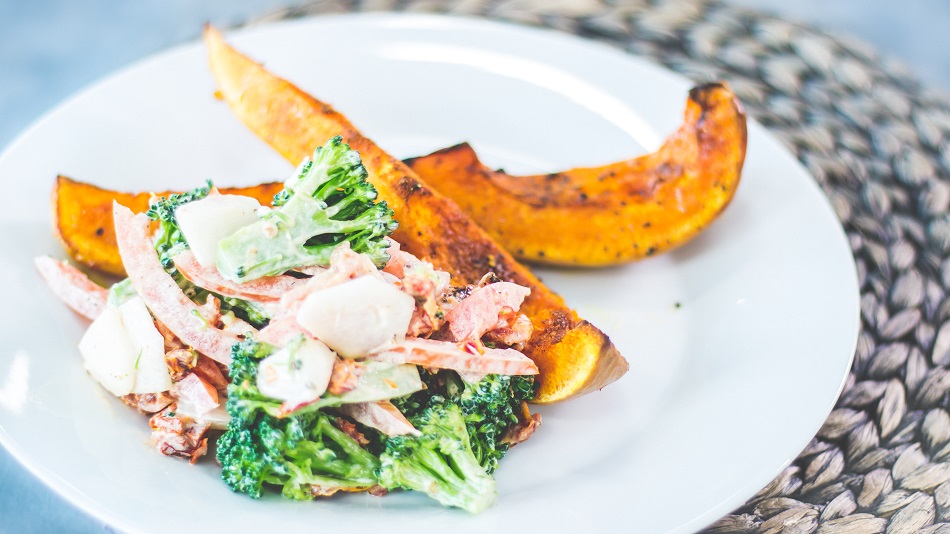 Ingredients:
3 heads of broccoli (large)

4 Tomatoes

1/2 cup of sun-dried tomato

8 Radishes

4 Strips of streaky bacon

3/4 cup Paleo mayo - (see the recipe under condiments tab)

1 Teaspoon of ground coriander

1 Teaspoon of smoked paprika

1 teaspoon of ground cardamon

3/4 cup of olive oil

Salt and pepper

2 large butternut pumpkin

Aluminium foil
Method
1) Place a large pot of water on the heat and bring to boil.

2) Remove stems from broccoli and blanch florets in the boiling water (2-3 minutes) being careful not to over cook.

3) Drain broccoli and cool immediately in ice water, drain and set aside once fully cooled.

4) Cut tomatoes into quarters and remove seeds, slice into thin strips.

5) Peel radish and slice into thinly, place sliced radish in a bowl of cold water.

6) Slice sun-dried tomato into thin strips.

7) Cook bacon until slightly crispy (3-5 minutes in a frying pan on medium high heat), once bacon is cooked to desired crispness remove from heat and slice into thin strips.

8) Drain radishes.

9) Combine all ingredients into a large bowl and mix thoroughly.


Roasted Butternut Pumpkin
1) Preheat oven to 350 degrees Fahrenheit.

2) Cut pumpkins in half length wise, then cut each half into thirds length wise.

3) Mix coriander, paprika and cardamon.

4) Place sliced pumpkin on a foil lined baking tray.

5) Brush pumpkin slices with olive oil.

6) Sprinkle each slice with spice mixture and salt and pepper.

7) Place into preheated oven and cook for 30-40 minutes.