Paleo Apricot Chicken with Bok Choy
A tangy chicken dish with an Asian twist - packed with all of the protein and goodness you need!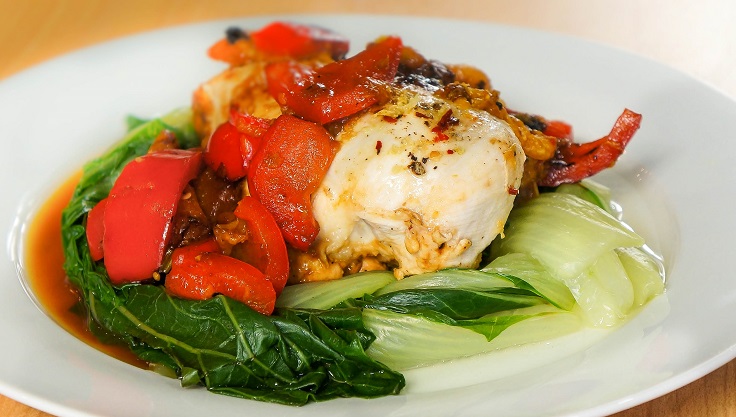 Ingredients:
3 bok choy
3 limes
5 skinless chicken breasts
Coconut oil
Cracked black pepper, to taste
Chilli flakes, as desired
2 red peppers, deseeded and sliced
6 apricots, halved and peeled
1-2 green onions, finely sliced
2 mandarins
Method
1. Cut the bases off the bok choy and rinse the leaves.

2. Zest the lime skin and set this aside.

3. Turn a large fry pan on a medium-high heat and heat some coconut oil. Add the chicken to the pan and cook until it is white all the way through (make sure you turn the chicken over).

3. Crack desired amount of black pepper over the chicken, add in chilli flakes and squeeze in the juice of 1 lime. Put the lid on and cook for 3-4 minutes.

4. Bring a pot of water to boil.

5. Add the bok choy to the pot and place the lid on to cook for 3-5 minutes (until softened). Remove from heat and drain.

6. Add the apricots, sliced peppers, green onion and lime zest to the pan with the chicken. Squeeze the juice of the other 2 limes in over the top.

7. Lastly, peel the mandarins and add the segments to the pan. Mix everything together, place the lid back on and let it cook for a further 10 minutes.

8. Serve your apricot chicken with bok choy on the side. Enjoy!