Paleo Chicken Risotto
This Paleo chicken risotto is a really tasty, easy dish to make. And best of all, it is much lower in calories than a traditional rice risotto!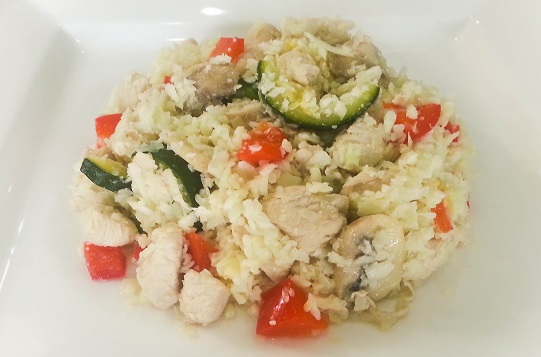 Ingredients:
5 chicken breasts, diced
2 cauliflowers, grated
20 white button mushrooms, sliced
2 zucchinis, sliced
1 red pepper, diced
1 cup chicken stock
Coconut oil, for cooking
Method
1. Preheat a frying pan on a medium-high heat with 2 tablespoons of coconut oil.

2. Once hot, place the chicken into the pan and cook until white all the way through.

3. Once the chicken is cooked, add in the zucchini and mushrooms. Cook this for about 5 minutes, stirring often.

4. Pour chicken stock into the pan and mix.

5. Turn on another frypan or wok on a medium-high heat and drizzle in some coconut oil. Add in your grated cauliflower rice and cook for a few minutes, stirring often.

6. Add the cauliflower rice to the chicken pan and mix it in well. Turn the pan to a low heat.

7. Lastly, add the peppers to the pan and cook for another 2 minutes, stirring the mixture well.

8. Remove your chicken cauliflower rice risotto from heat and serve.