Eggplant & Tomato Soup
A deliciously tangy soup you must try!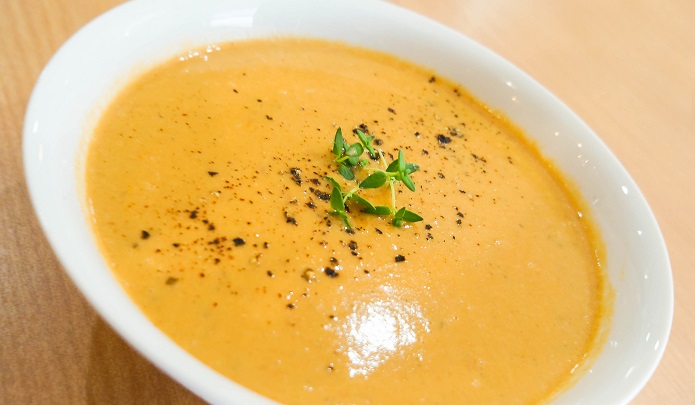 Ingredients:
2 eggplants, halved
6 large tomatoes, halved
2 onions, peeled & halved
2 tablespoons olive oil
Handful of fresh chopped thyme
10 garlic cloves
4 cups (1000ml) chicken stock 
1 3/4 cup (400ml) coconut milk

Method
1. Preheat oven to 400F (200C).
2. Line 2 oven trays with baking paper. Place the eggplants on one oven tray (skin side down).
3. In a large bowl, mix the tomatoes, onion and drizzle over the olive oil.
4. Sprinkle the thyme, garlic cloves, a pinch of salt and some cracked black pepper into the bowl. Mix ingredients together with your hands.
5. Brush some olive oil over the eggplants on the tray.
6. Add the tomato and onion mixture onto the other oven tray and place both trays in the oven to cook for 40 minutes.
7. After 40 minutes remove both trays from the oven and add all of the vegetables into a big pot.
8. Add in the chicken stock and coconut milk to the vegetable pot and simmer for 5-10 minutes.
9. Once that starts to boil, remove from heat.
10. Using a hand blender, blend up all of the vegetables in the pot.
11. Once smooth, serve and enjoy!

This soup tastes great with a side of bread - why not try our Paleo Bread recipe.