Paleo Cocido
Give your usual stew a Spanish twist with this easy-to-make dish.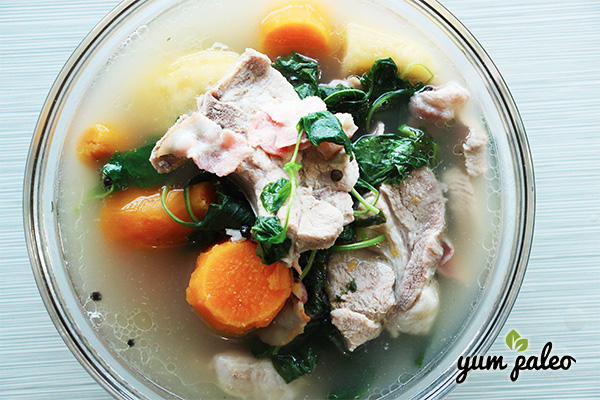 Ingredients:
2 pounds (1 kilogram) pork, sliced
Water, as needed
1-2 teaspoons peppercorns
1/2 teaspoon garlic, crushed 
1/2 cup red onion, sliced
Salt, to taste
3 small sweet potato, peeled and quartered
3 ripe plantain banana
5 pieces bacon, sliced
1 cup spinach

Method
1. Put the pork into a heavy stockpot, then add enough water to cover it.
2. Add peppercorns, garlic and onions, then boil briskly for 10 minutes. 
3. Lower the heat and simmer until the meat is tender.
4. Add salt to taste.
5. Add sweet potatoes, banana, bacon, and cook until tender.
6. Add spinach and cook until the leaves wilt.
7. Serve hot and enjoy!