Lamb Salad
A fresh and tasty salad for lamb lovers that's ready in under 20 minutes!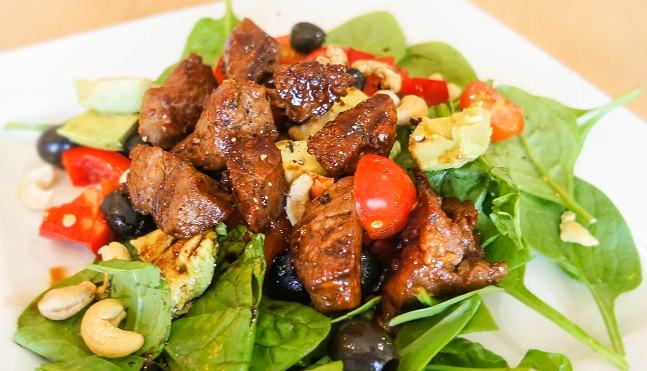 Ingredients:
1 pound (500 grams) diced lamb
4 garlic cloves, crushed
1 tablespoon sesame oil
Olive oil, for frying as needed
2 tablespoons raw honey 
3 avocados, pitted
1 red pepper, deseeded
3 cups spinach leaves
10-15 cherry tomatoes 
5-10 olives
1 handful raw cashew nuts
Balsamic vinegar or freshly squeezed lemon juice (Optional)












Method
1. In either a bag or large bowl, mix together the diced lamb, crushed garlic and sesame oil. Let this soak for 5 minutes or ensure it is well mixed.
2. Heat olive oil in a fry pan on a medium heat, then add in the lamb mix to cook for 4 minutes, tossing occasionally.
3. Add honey to the fry pan and mix in with the lamb. Cook for another 2 minutes, turning the lamb over often.
4. Cube the avocados and slice the pepper.
5. In a large salad bowl, add in the spinach leaves, cubed avocado, cherry tomatoes, olives, cashew nuts and pepper.
6. Lay the cooked lamb over top of the salad.
7. Crack some black pepper over the salad, and then drizzle over either balsamic vinegar or lemon juice (lemon juice is more strictly paleo).
8. Serve and enjoy!