Creamy Mushroom Soup
A thick & creamy soup that will hit the spot for mushroom-lovers. Goes great with our Paleo Bread recipe!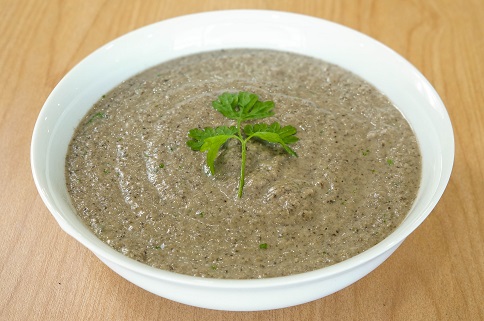 Ingredients:
Olive oil, for frying as needed
1 pound (500g) portobello mushrooms, sliced
2 garlic cloves, finely chopped
1 brown onion, diced
2 cups (500ml) chicken or vegetable stock
1 3/4 cups (400ml) coconut cream
Dried thyme leaves, to taste
Cracked black pepper, to taste
Fresh parsley leaves, to garnish
Method
1. Heat a frying pan with a dash of olive oil.
2. Add the mushrooms, onions, garlic, thyme and black pepper to the pan and fry until the mushrooms are lightly browned and the onion is cooked through.
3. Set a large saucepan over medium heat and add the contents of the frying pan.
4. Add the coconut cream to the saucepan and stir.
5. Add the chicken stock and give it a mix.
6. Turn off the heat and blend up the soup mixture until smooth, using a hand blender.
7. Simmer the blended soup for 10 minutes, then garnish with fresh parsley and serve.
8. Enjoy!