Paleo Mustard & Garlic Pork Chops
We have served these delicious pork chops with a creamy sweet potato gratin. A meal everyone will enjoy!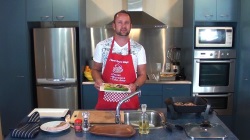 Ingredients:
Sweet Potato Gratin:
3-4 sweet potatoes, peeled and thinly sliced
1 brown onion, diced
4 white button mushrooms, sliced
2 cups coconut cream
3 cloves garlic, crushed
Coconut oil, for cooking
Pork Chops:
5 garlic cloves, crushed
2 tablespoons wholegrain mustard
5 pork chops
Coconut oil, for cooking
Method
Sweet Potato Gratin:
1. Preheat your oven to 360F 180C on fan bake.
2. In a bowl, mix the onion, garlic, coconut cream, and mushrooms.
3. Layer the sweet potatoes on an ovenproof dish greased with coconut oil.
4. Pour the mushroom mix over the layered sweet potatoes.
5. Place dish in the oven and cook for 30 minutes.
Pork Chops:
1. In a bowl, combine the mustard and garlic, and then brush the mixture over the pork chops.
2. On a medium-high heat, add some coconut oil into the pan and fry the pork chops (about 3 minutes on each side).
3. Serve with the sweet potato gratin.