Meatloaf
This flavor-packed meatloaf is great served with a side salad or a selection of cooked vegetables. It is also a great one to heat up the next day or use for sandwiches!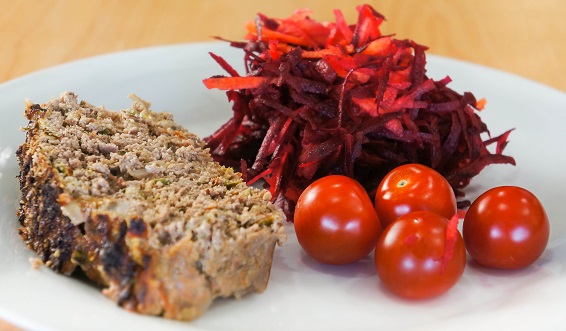 Ingredients:
Basil Pesto:
1/2 cup pine nuts
3 garlic cloves
2 cups fresh basil leaves
1/2 cup extra virgin olive oil
Paleo Meatloaf:
4 tomatoes, pureed
2 pounds (1 kilogram) ground beef
4 zucchinis, grated
2 brown onions, diced
2 cups almond meal
½ teaspoon thyme
½ teaspoon oregano
¼ teaspoon ground cinnamon
2 eggs
Coconut oil, for cooking
Black pepper, to taste
Method
Basil Pesto:
1. In a pan, roast the pine nuts for 3-4 minutes on low-medium heat. Be careful not to burn them.
2. Using a food processor, combine the roasted pine nuts, crushed garlic and the fresh basil leaves.
3. Blend and slowly add a little bit of olive oil until happy with the consistency of the pesto sauce.
Paleo Meatloaf:

1. Preheat oven to 350F (175C).
2. Combine the pureed tomatoes and pesto sauce in a medium size bowl. Set aside.
3. In a separate large bowl, add the ground beef, zucchini, onions, almond meal, thyme, oregano, cinnamon, tomato-pesto mix, and eggs. Mix until well combined.
4. Grease an ovenproof dish with coconut oil and place the meatloaf mix in it. Crack some black pepper on top and cook in the oven for 1 hour.
5. Remove the meatloaf from the oven. Slice it up and serve either hot or cold. Enjoy!