Paleo Roast Chicken
A delicious roast chicken recipe infused with the mouth-watering aroma of fresh herbs.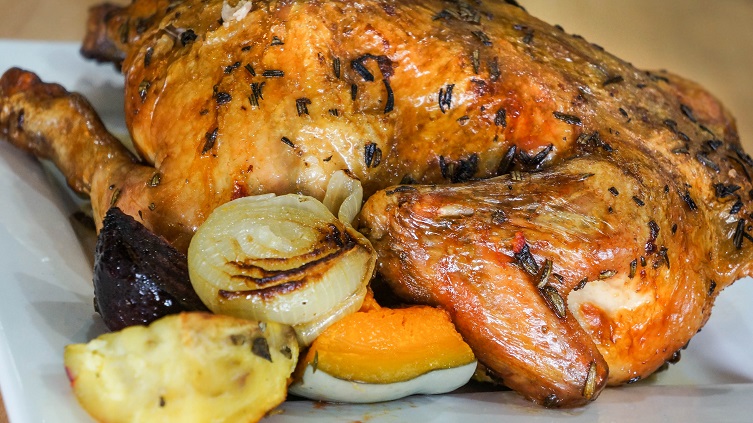 Ingredients:
1 whole chicken (if frozen leave in fridge to defrost in the fridge for 48 hours before cooking)
2 teaspoons dried rosemary
2 teaspoons dried sage
2 teaspoons dried basil
1 teaspoon sea salt
4 brown onions, halved
½ pumpkin chopped into smaller pieces
2 sweet potatoes, peeled and roughly chopped
5 beetroot, chopped in half
Coconut oil
Chicken Cavity:
4 fresh rosemary sprigs
5 garlic cloves, sliced in half
4 fresh thyme sprigs
1 lemon, quartered
Method
1. Take the chicken out of the fridge for at least half an hour before prepping. Place chicken onto an oven tray greased with coconut oil.

2. Preheat oven to 480F (240C) on fan bake.

3. Put lemon quarters inside the cavity of the chicken, along with rosemary and thyme sprigs and garlic cloves. Tie legs together with string to hold the stuffing in (recommended).

4. In a bowl, mix together the dried sage, basil, rosemary and sea salt.

5. Rub oil and half of the herb mix over the skin of the chicken.

6. Add 1 cup of water to the chicken dish, to keep the meat moist as it cooks.

7. Place chicken in the oven and after 5 minutes turn the heat down to 400F (the added heat at the start will help the skin to crisp up).

8. Cook the chicken for 30 minutes per 1 pound (500 grams) of weight.

9. When there is half of the cook time to go, remove chicken from oven and baste by pouring the juices from the dish back over the chicken. Note: If the juices dry out at the bottom of the roasting dish, you can add more water to the roasting dish as needed.

10. Return chicken to oven and turn the heat down to 360F (180C).

11. When it is 45 minutes of cook time to go, lightly coat the chopped vegetables with coconut oil and the rest of the herb mix. Add these vegetables to either the same roasting dish as the chicken or a separate tray if you don't have enough room. Place in oven and cook for 45 minutes.

12. Remove chicken and vegetable dishes from the oven. Cover the chicken dish with foil and allow to sit for 10 minutes.

13. Remove foil, carve the chicken and serve with the roast vegetables.

14. Enjoy!