Paleo Lemon Pesto Salmon
A deliciously tender salmon fillet topped with mouth-watering lemon pesto and served with a divine side of honey baked carrots.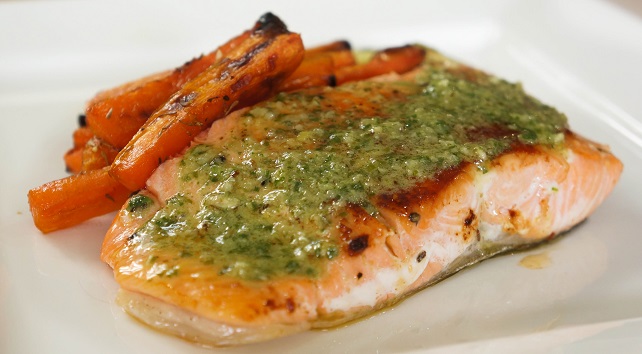 Ingredients:
Lemon pesto salmon:
1 handful of walnuts
1 handful fresh basil
2 cloves garlic
1/2 cup extra virgin olive oil
2 lemons, juice and zest
5 salmon fillets, deboned
2 tablespoons coconut oil
Honey baked carrots:
12 carrots, peeled and sliced
2 tablespoons melted coconut oil
1 teaspoon thyme
½ teaspoon cracked black pepper
1 tablespoon raw honey

Method
Lemon pesto salmon:
1. Use a blender to blend up the basil, walnuts, garlic and olive oil.
2. Add the lemon zest and juice to the pesto mix and stir.
3. Preheat a large fry pan on a medium-high heat with a dash of coconut oil. Once the oil is hot, add the salmon to the pan skin side down and cook for about 3 minutes on each side.
4. Take the salmon fillets out of the pan and spoon the pesto mix over them on a plate.
5. Serve your pesto salmon with the honey roasted carrots below. Enjoy!
Honey baked carrots (optional side):
1. Preheat the oven to 400F (200C) on fan bake.
2. Line an oven tray with tin foil.
3. In a bowl, drizzle coconut oil over the carrots, add the dried thyme and cracked black pepper and mix together.
4. Place the carrots on the lined oven tray and put in the oven to bake for 10 minutes.
5. Take the carrots out of the oven and place back into the bowl.
6. Add raw honey to the carrots and mix until they are coated with honey.
7. Place carrots back on the lined oven tray and put in the oven to bake for a further 5 minutes. Keep an eye on them to make sure they are not burning.
8. Remove from oven and serve.