Pork Filled Lettuce Cups
For all of you pork lovers - this is a real winner!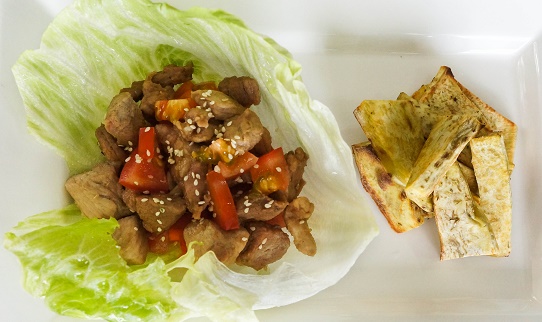 Ingredients:
Pork Filled Lettuce Cups:
1 1/3 pounds (600 grams) pork, diced
1 iceberg lettuce, washed and separated into whole leaves
2 tablespoons raw honey
8-10 mushrooms, diced
1 tablespoon fresh ginger
2 oranges
1 clove garlic
3 tomatoes, diced
1 carrot, diced
½ cup sesame seeds
Optional Sweet Potato Fries:
2 large sweet potatoes, peeled & chopped into fries
Coconut oil, for cooking
Optional: Season with your favorite herbs and spices
Method
Pork Filled Lettuce Cups:
1. In a large bowl, mix together the pork, raw honey, juice of 2 oranges, sesame seeds, and pepper to taste. Set aside and let the pork marinade for a few minutes.
2. In a frying pan on low heat, add a small amount of coconut oil and lightly fry the marinated pork. Add garlic, ginger, and mushrooms. Cook for 5 to 8 minutes.
3. To assemble, fill your lettuce cups with small amounts of the pork mixture and serve with a side of sweet potato fries below (optional) and enjoy!
Optional Sweet Potato Fries:
1. Preheat the oven to 400F (200C) on bake.
2. Place the sweet potatoes on a greased oven tray and brush them with some melted coconut oil.
3. Bake in the oven for 15 to 20 minutes or until golden brown.
4. Take the fries out of the oven and serve.