Shrimp & Pesto Salad
Shrimp lovers must try this flavor-packed salad!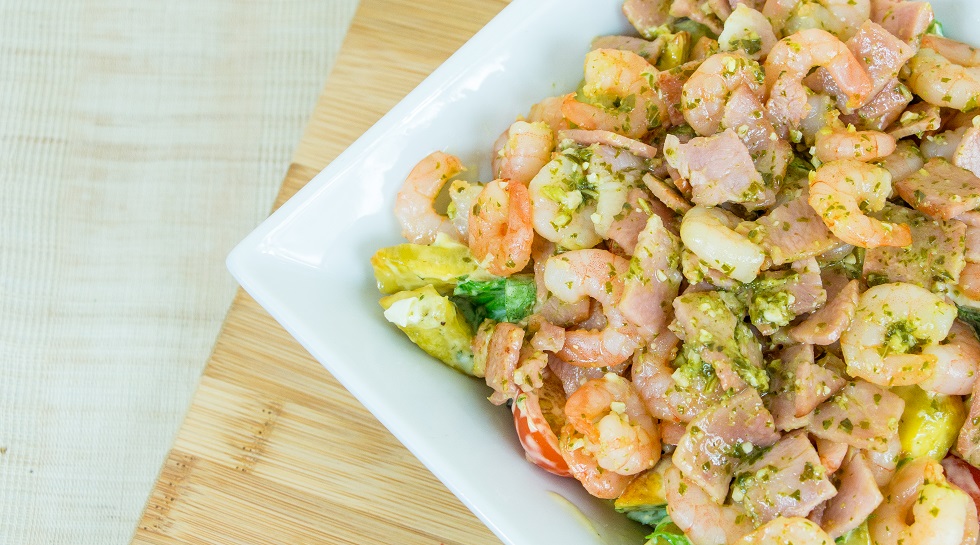 Ingredients:
Salad:
3 large sweet potatoes
1 teaspoon oregano
½ teaspoon cracked black pepper
½ teaspoon pink rock salt
1 tablespoon coconut oil
14 ounces (400 grams) shoulder bacon
½ pound (250 grams) of shrimps, cooked and peeled
1 tablespoon lemon juice
3 large cups salad greens
1 punnet cherry tomatoes
4 hard-boiled eggs
3 tablespoons paleo pesto
Paleo Pesto:
½ cup pine nuts
3 garlic cloves
2 cups fresh basil leaves
½ cup olive oil
Paleo mayonnaise:
1 cup extra virgin olive oil
1 egg
½ teaspoon cracked black pepper
2 tablespoons of lemon juice
Method
Paleo Mayonnaise:
1. Pour oil in a tall, narrow container.

2. Crack the egg into the oil, being careful not to include the shell.

3. Add lemon juice and cracked black pepper, to taste.

4. Place the hand blender right at the bottom of the container and blend mayonnaise for about 20 seconds, then slowly lift the blender up and down about 5 times until the mayonnaise is mixed through.
Paleo Pesto:
1. Heat a pan, add the pine nuts into a large fry pan to roast, spread them out and roast for 3-4 minutes, and on a low-medium heat (be careful not to burn them).

2. Remove the pine nuts from the pan.

3. Using a food processor, add in the roasted pine nuts, crushed garlic, and the fresh basil leaves.

4. Blend the ingredients.

5. Add in the olive oil slowly (not all in one hit) and blend again until you are happy with the consistency.
Shrimp and Pesto Salad:
1. Peel and cube 3 large sweet potatoes.

2. Place the cubed sweet potatoes on a lined oven tray and season with cracked black pepper and oregano and pink rock salt, place in the oven for 25 minutes on 360F (180C).

3. Once cooked remove from the oven and set to the side.

4. Preheat a frying pan on a medium heat and drizzle in coconut oil.

5. Chop up bacon and place in the pan to cook until brown and crispy.

6. Add the cooked and peeled shrimps to the pan once the bacon is brown.

7. Spoon in 2 tablespoons of the paleo pesto to start with and mix that in with the shrimp and bacon in the pan, and let that cook for another 2 to 3 minutes.

8. Make a Paleo mayonnaise and add the remaining pesto into the mayo and mix.

9. Squeeze lemon juice into the mayonnaise and mix.

10. Wash salad greens and add to a bowl, add the cooked sweet potatoes in and sliced cherry tomatoes and slice 4 hard-boiled eggs (to hard boil eggs place in a pot of boiling water for about 5 mins, removed from pot let sit for 5 mins, run under cold water and peel the shells), drizzle the pesto mayo into the salad and mix.

11. Add the bacon and shrimp pesto mix to the salad and mix.

12. Enjoy!