Paleo Zucchini Pie with Scrambled Egg Side
Tasty zucchini pie with yummy scrambled eggs and vegetables on the side!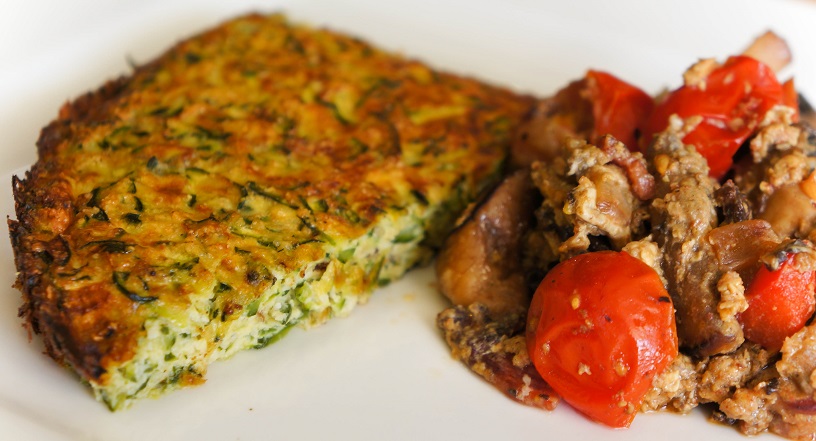 Ingredients:
Zucchini Pie:
6 zucchinis, grated
3 eggs
1/3 cup almond flour
Black pepper (as desired)
Sea salt (pinch)
1 tablespoon coconut oil
Scrambled Egg & Vege Side:
6 free range eggs
14 white button mushrooms, sliced
1 punnet cherry tomatoes
1 red capsicum, sliced
1 brown onion, finely chopped
1 tablespoon coconut oil
Method
Zucchini Pie:
1. Pre heat the oven to 350F (175C) on fan bake.
2. Crack 3 eggs into a bowl and add in the grated zucchini, almond flour, black pepper and a pinch of sea salt.
3. Mix ingredients together until well combined using a fork. You can also use your hands to make sure it is all mixed together.
4. Grease an oven dish with coconut oil and add in the zucchini mixture. Flatten the mixture out in the dish.
5. Place the dish in the oven to cook for 20-30 minutes.
6. Remove pie from the oven and serve on its own or with the delicious scrambled egg and vegetable mix below!
Scrambled Egg and Vegetable Side:
1. Heat a fry pan over a medium-high heat with some coconut oil.
2. Place the onions in the pan and fry until clear.
3.Add the bacon, red capsicum and mushrooms to the pan and fry, stirring often. Add in some more coconut oil if you need to.
4. Add the cherry tomatoes to the pan and mix everything together.
5. Beat the 6 eggs with a fork and add these to the fry pan. Cook for a further 5 minutes, mixing the eggs in with the vegetables.6. Serve and enjoy this wonderful breakfast dish.