Rice Trio Topped with Vegetarian curry
A fantastic and nutritional variation to any ÍžriceÍŸ dish. Colourful and packed with flavour and a wide range of essential vitamins and nutrients.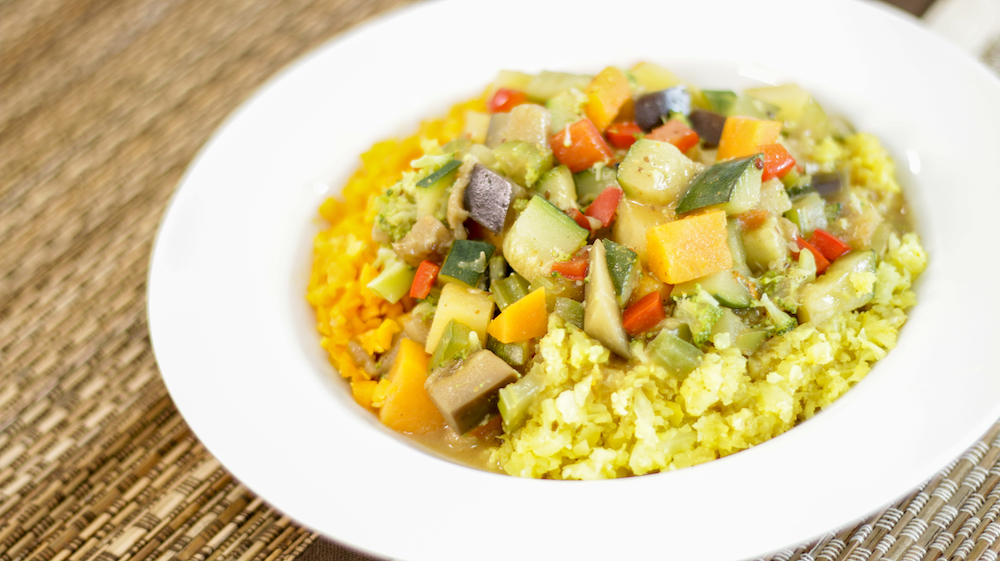 Ingredients:
2 large sweet potatoes peeled and small diced
1 large swede peeled and small diced
5 parsnips
5 large carrots
2 cauliflower
3 courgettes small diced
2 eggplants small diced
4 red peppers de-seeded and diced
4 stalks of celery small diced
1 litre of coconut cream
1 litre of vegetable stock
1 teaspoon of ground cumin
1 teaspoon of ground coriander
1 teaspoon of ground turmeric
Salt & pepper
1 tablespoon of tapioca flour & 2 tablespoons of water
4 tablespoons of madras curry spice
4 tablespoons of coconut oil
Method
1. Peel and chop parsnips and carrots, remove stems from cauliflower and separate into florets. Place cauliflower, parsnips and then carrots separately into a food processor turning them individually into ÍžriceÍŸ. Set each aside in separate bowls.

2. Heat two large frying pans each with 1 tablespoon of coconut oil. Combine cauliflower and parsnip ÍžriceÍŸ into one pan with ground turmeric and coriander. In the other add the carrot ÍžriceÍŸ with the ground cumin. Cook each on low heat for 10 mins, stirring regularly to avoid sticking.

3. Heat a large pot with 1 tablespoon of coconut oil. Once heated add diced peppers, celery and 2 tablespoons of curry spice, stir till coated and cook for 5 minutes until tender. Season with salt and pepper.

4. Add diced courgette and eggplant to the pot with peppers and celery, add the rest of the curry spice, stir till coated and cook for 5 mins until tender. Season with salt and pepper.

5. Add stock to the curry vegetable mixture and reduce heat to a simmer.

6. Fill a second large pot half full of water and add diced sweet potato and swede. Bring to a boil and cook for 10-15 minutes until tender.

7. Once sweet potatoes and swede are cooked through strain the water and add them to your curry vegetables and stock. Add coconut cream and thicken with tapioca flour and water mixture.

8. Taste! Season to your liking both curry mix and veggie ÍžriceÍŸ with salt and pepper if desired.

9. To plate place ÍžRiceÍŸ into a large bowl keeping the Carrot separate from the cauliflower and parsnip mixture to keep a colour separation. Top with vegetable curry and serve.

10) Enjoy.